All Inclusive Flight ***
Do you want your paragliding flight to remain an unforgettable experience, do you want to test everything? Experience sensations that no other ride can give you? Pilot this machine with the assistance of an instructor? Indeed, this formula offers you the opportunity to see everything, taste everything and leave with your personalised video montage!
It is important not to be sensitive to motion sickness, as long flights and acrobatics can cause nausea for some people.
Your paragliding flight in Clermont-Ferrand, top-of-the-range version!
The VIP flight in Clermont-Ferrand will offer you an extraordinary flight and a timeless experience that you will never forget!
Indeed, this great aerial ride will allow you to discover the chain of puys and the most beautiful volcanoes of Auvergne seen from above. You will thus have a plunging and panoramic view of this sublime scenery to discover our beautiful region from a whole new angle! Also, you will discover the Clermont-Ferrand agglomeration as you have never seen it before!
Paragliding to discover the Chaîne des Puys in a different way
This paragliding experience in Clermont-Ferrand will allow you to see the hundreds of magnificent and majestic volcanoes, as well as the unmissable Puy-de-Dôme, in the centre, which peaks at 1465 m and offers a 360° view of the other volcanic devices at an average altitude of 1200 m.
We guarantee you a unique experience like never before. During your flight, our experienced instructors will be able to show you the landscapes from the best angles and with the best lighting so that you can enjoy a more than remarkable panorama.
VIP flight in Clermont-Ferrand: all technical details
Did you think that paragliding was only for the more sporty? No, quite the opposite! You just have to be between 10 and 80 years old, weigh between 30 and 110 kg and be able to walk on a slope, useful before and after your flight!
It is important not to be sensitive to motion sickness, as flying can cause sensations different from those felt on land: an experience in its own right! In addition, minors must have written permission from their parents.
Of course, we reserve the right to cancel the flight due to unfavourable weather conditions at the Puy de Dôme or security problems. We will inform you the evening before the appointment and will reschedule another day according to everyone's availability.
The video editing of your flight is offered :
The video editing option is included in this package! At the end of the flight, we will send the video of the flight to a laboratory specialising in video editing and within 72 hours you will receive a film of the best moments of your flight with music and animation. An unforgettable memory to share with all your family, friends, …
Complete your VIP flight with our options:
Duo and patrol option – free of charge : You want to fly at the same time as a loved one to enjoy this flight with them, the duo and patrol option is made for that! Your instructors will fly close to each other to share a bit of your flight with your loved ones.
The video editing option is included in the price!
Discounts for families and groups :
5% discount on 5 flights on the same day (except August and weekends)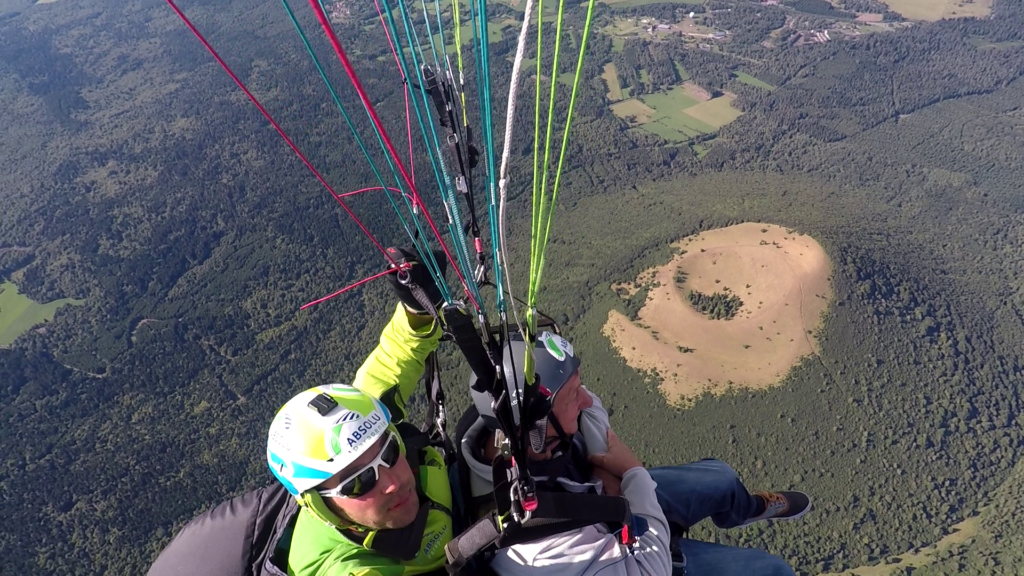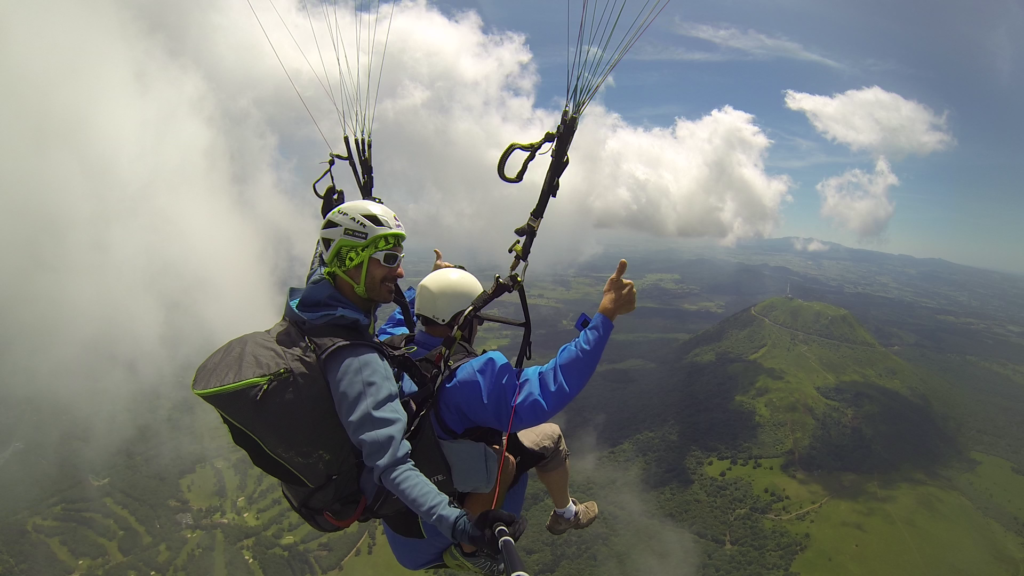 How does a Puy-de-Dôme paragliding flight take place?
Before the jump, you will be given a briefing on the course of the flight. You will then know what is expected of you during take-off and landing. Don't worry: it's really not that complicated! Just follow the movement, take a few steps forward and backward and it will be done with the greatest of ease… All of this will be explained to you in every detail, the aim being to reassure you and allow you to enjoy it to the fullest! Once in the air, all you will have to do is contemplate the panorama and the landscapes, our pilots will take care of the rest and ensure your safety at all times. If you are interested, they will also be able to tell you more about how the paraglider works, and give you a few tips on how to fly it yourself!
Essential conditions for a VIP paragliding flight over the Chaîne des Puys
For a safe flight, we recommend certain criteria. Indeed, taking off in the air should not be an activity done lightly, which is why our experienced instructors ask each future paraglider the following elements:
Weigh from 40 to 110 kg
Being able to walk on a slope
Do not be susceptible to motion sickness
Written authorisation from both parents for minors
Book a gift voucher for a VIP flight
 Do you want to give an incredible and unforgettable gift to someone close to you? Order a gift voucher for a VIP flight in 5 minutes and receive it by email immediately.