Paragliding at the Puy de Dôme: adrenalin flight for thrill-seekers
Feel like adrenalin? Absolu Parapente proposes to send you into the air with figures and manoeuvres above the Puy-de-Dôme, an acrobatic version of paragliding. In duo, with experienced and above all experienced instructors, we offer you a 3-dimensional ride where the pilot will adapt to your desire for thrills. But in complete safety, you will discover a form of aerial ballet.
The adrenalin flight : A sensational paragliding baptism above the Puy de Dôme 100% adrenalin and 100% safe!
After take-off, your instructor will try to gain altitude and then descend rapidly during breathtaking manoeuvres: roller coaster, centrifuge, roller coaster, wing over, 360°... Thrills guaranteed to make you shiver, boost your adrenaline and vibrate your stomach. This acrobatic tandem offers you nice memories and breathtaking panoramas.
The intensity of the figures is gradual and can go up to 2 or 3G. And unlike a merry-go-round, you can stop the figures at any time, while you come to your senses, the goal not being to make you sick! Our paragliding school offers safe flights with the aim of either offering a first flight to fly over magnificent landscapes or for the more adventurous to fly with acrobatic figures.
This formula is not the result of a kamikaze attitude, but the fruit of training, controlled and approved equipment. The paragliding material is studied to resist enormous efforts, it undergoes tests at 8G to be homologated! The acrobatics, loops as many say are impressive from the outside as well as from the inside, but don't worry… they are performed in complete safety by trained and experienced instructors.
Complete your adrenalin flight with our options :
Simple video option – 20€: this will allow you to keep the raw video of your flight, filmed in high quality with our onboard camera.
Video editing option – 40€: more complete and accomplished than the simple video; the video of the flight will be sent to a laboratory specialised in video editing and you will receive a film of the best moments of your flight, within 72 hours, with music and animation.
Duo and patrol option – free: to fly with several people at the same time. Your instructors will fly close to each other to enjoy the paragliding experience together.
Of course, we reserve the right to cancel the flight over Clermont-Ferrand due to dangerous or unfavourable weather conditions or for safety reasons. We will inform you the evening before the appointment and suggest you postpone the flight.
Discounts for families and groups :
5% discount on 5 flights on the same day (except August and weekends).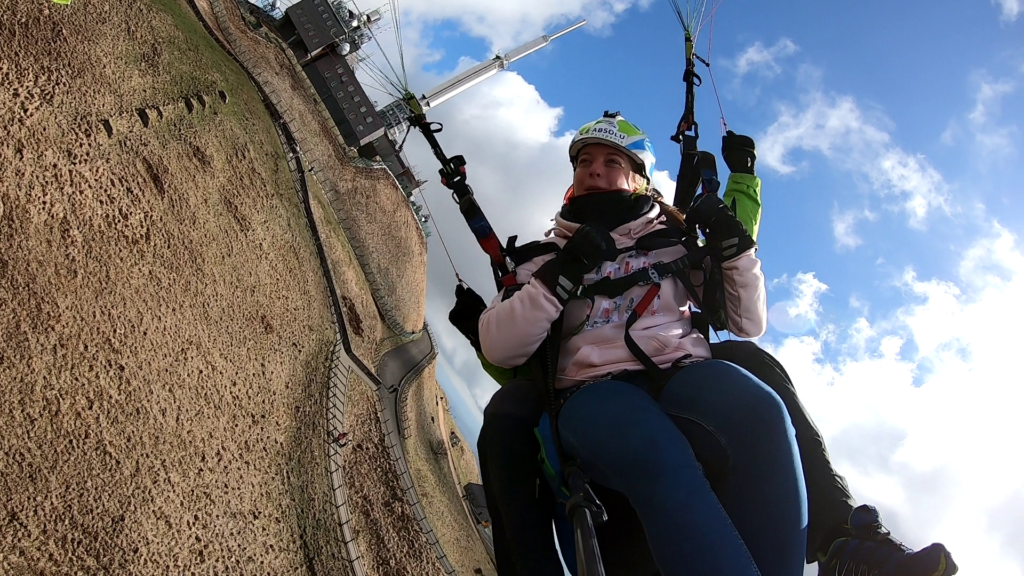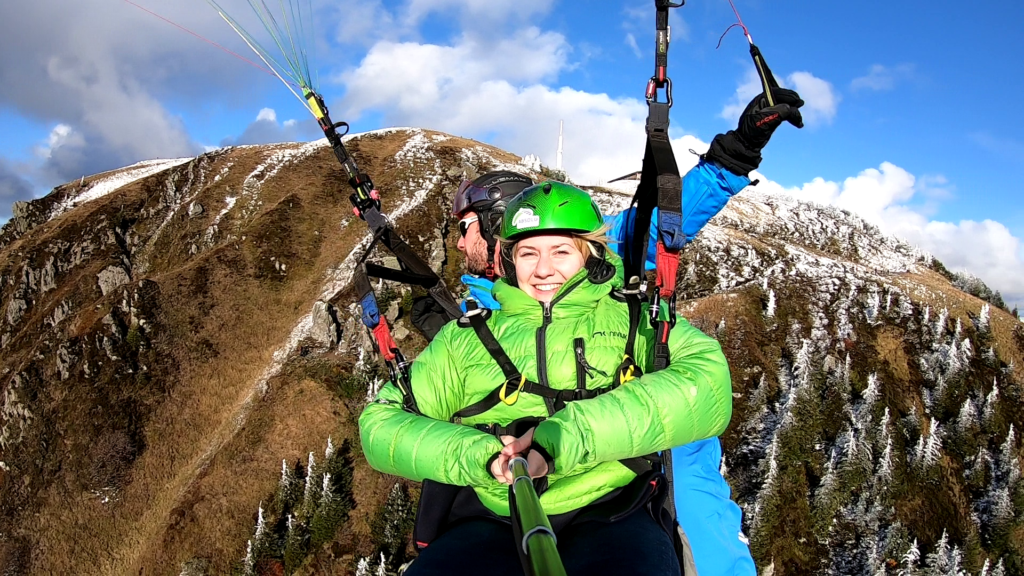 What are the conditions required to make this aerobatic paragliding flight?
Even if you are only a passenger, you must ensure maximum safety from the sensation of paragliding flight with an instructor. Therefore, for this formula, we ask that certain essential safety conditions be respected:
Weigh between 30 and 110 kg
Being able to run on a slope
Do not be susceptible to motion sickness
Written authorisation from both parents for minors
Do not suffer from heart problems, epilepsy, etc.
Book a gift voucher for an adrenaline flight
 Offer a sensational and breathtaking gift to your loved one with the Absolu Paragliding gift voucher! Order the gift voucher within 5 minutes and receive it by email immediately.