Discovery flight : A paragliding jump at the Puy de Dôme for maximum freedom
Have you always dreamed of flying over the Puy-de-Dôme? Here is the ideal paragliding jump for an initiation to paragliding which will allow you to admire like nowhere else this superb panorama and fly over the Puys mountain range. A free flight in the air as a passenger with experienced and passionate instructors.
This paragliding jump is open to everyone, even if it is a first, even if you have vertigo (no excuses, vertigo does not exist in paragliding!), even if you are not very sporty. The instructor will adapt to your desires and your abilities. He will simply ask you for a short take-off run and you will feel lighter and lighter. That's it, you're there, all you have to do now is to settle down comfortably and admire the view. In fact, you take off quickly, there is no cliff and you don't have to jump into the void. Everything goes smoothly, the landing as well. For a first flight, this is the ideal place.
Complete your discovery flight with our options :
Simple video option – 20€: it will allow you to keep the raw video of your flight, filmed in high quality with our onboard camera.
Video editing option – 40€: more complete and accomplished than the simple video; the video of the flight will be sent to a laboratory specialized in video editing and you will receive a film of the best moments of your flight, within 72 hours, with music and animation.
Duo and patrol option – free: to fly with several people at the same time. Your instructors will fly close to each other to enjoy the paragliding experience together.
Of course, we reserve the right to cancel the flight due to unfavourable weather conditions at the Puy de Dôme or security problems. We will inform you the evening before the appointment and will reschedule another day according to everyone's availability.
Discounts for families and groups :
5% discount from 5 flights on the same day (except August and weekends).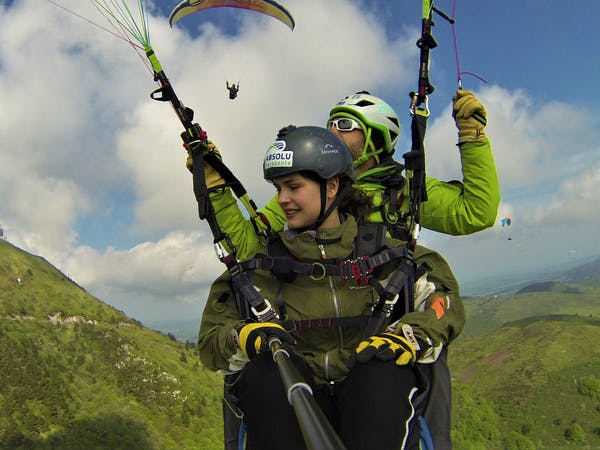 Requirements for a discovery paragliding flight at the Puy de Dôme with our team
To make a simple paragliding flight with our pilots, we impose certain basic rules :
Weigh 40 to 110 kg
Be able to walk on a slope
Have a written authorization from both parents for minors.
Book a gift voucher for a discovery flight
It is possible to offer a discovery paragliding experience to a relative. Offer him/her an unforgettable gift at the top of the Puy de Dôme! Order the gift voucher in 5 minutes and receive it by email immediately.