Become a pilot
For curious people, budding pilots or following a paragliding course; discover all the pleasures of learning to fly or improving your paragliding skills with the educational flight. Above the Puy de Dôme and the volcanoes, the educational flight formula offers you the opportunity to discover paragliding from a new angle: how it works and how to tame it.
Learn how paragliding works and take control of it with this paragliding flight!
Would you like to learn how to paraglide in Auvergne? Are you curious to find out how it works? The "Vol pédagogique" formula is ideal to help you progress in paragliding piloting. Our objective is clear: to make you fly your own aircraft or to improve your paragliding skills! And who knows? Maybe this paragliding baptism in the puy de dôme will reveal a real vocation in you!
The session will start with a briefing and some theoretical bases to be able to apprehend the paragliding flight that will follow. Following this, you will take the controls and pilot your paraglider yourself, assisted by a qualified professional to ensure your safety. The aircraft moves forward at 40km/h, you will be taught how to steer it, you will discover the effects of the controls on the axes of piloting, the attitudes to have, the anticipations to consider, and how to build the landing. Don't worry, your safety is assured at all times because, as in accompanied driving, the instructors are there to correct your mistakes.
On the programme: exploiting thermal or dynamic ascents, exploring the flight domain and understanding the speed range, discovering large amplitude movements...
Complete your educational flight with our options :
Simple video option – 20€: this will allow you to keep the raw video of your flight, filmed in high quality with our onboard camera.
Video editing option – 40€: more complete and accomplished than the simple video; the video of the flight will be sent to a laboratory specialised in video editing and you will receive a film of the best moments of your flight, within 72 hours, with music and animation.
Duo and patrol option – free: to fly with several people at the same time. Your instructors will fly close to each other to enjoy the paragliding experience together.
It is also possible to offer a gift voucher to a friend or family member to offer an educational paragliding baptism at the Puy de Dôme!
Discounts for families and groups :
5% discount for a share of 5 flights on the same day (except August and weekends).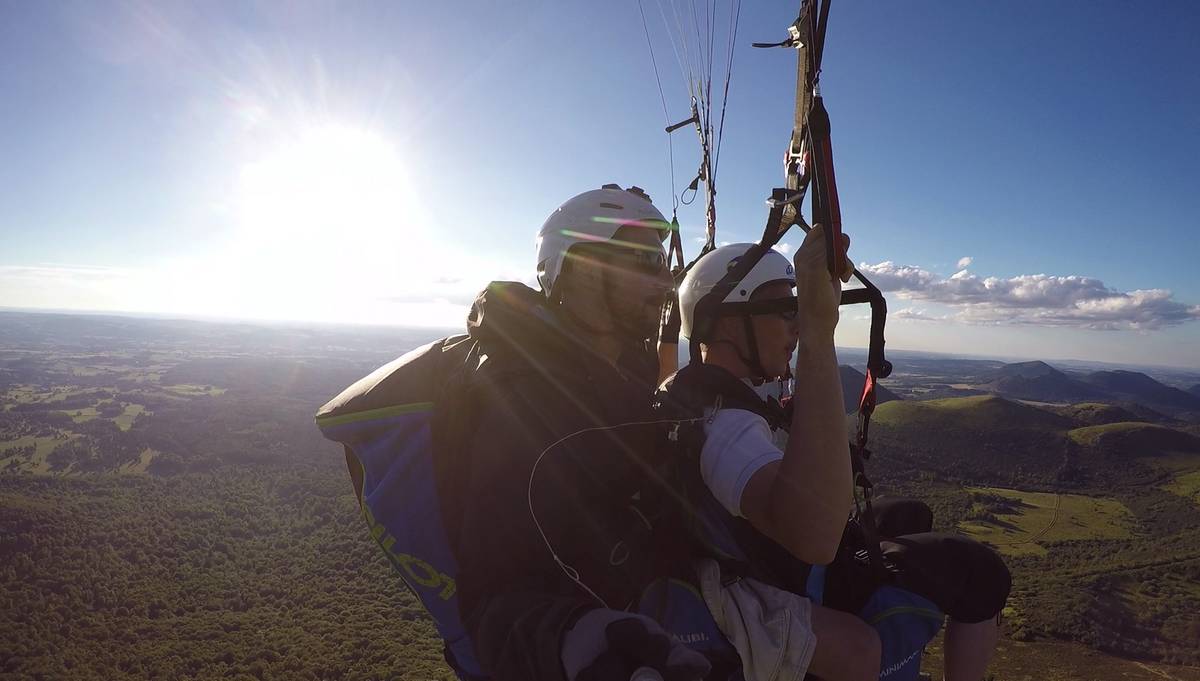 Perfect your paragliding skills!
Also intended for pilots coming out of a paragliding course, with the pedagogical flight our teams will be able to help you work and reassure you on exercises such as pitching, wings, 360°engaged, thermalling, approaches and landings, priorities and anticipations for populated flight in dynamics…
Why opt for a paragliding experience in Auvergne?
Paragliding makes man's ultimate dream come true: to fly! The sensation in the air is quite simply magical, the piloting sensations are just as magical, all the more so above the majestic Puy de Dôme.
In addition to the thrills and adrenaline you will feel during your first paragliding experience in the Puy de Dôme, you will leave with the pride of having been able to fly it in one of the most emblematic sites of Auvergne, listed as a UNESCO World Heritage Site!
Of course, we reserve the right to cancel the flight due to unfavourable weather conditions in the Puy de Dôme or any safety problem. We will let you know the evening before your appointment so that you can get organised and make an appointment according to everyone's availability.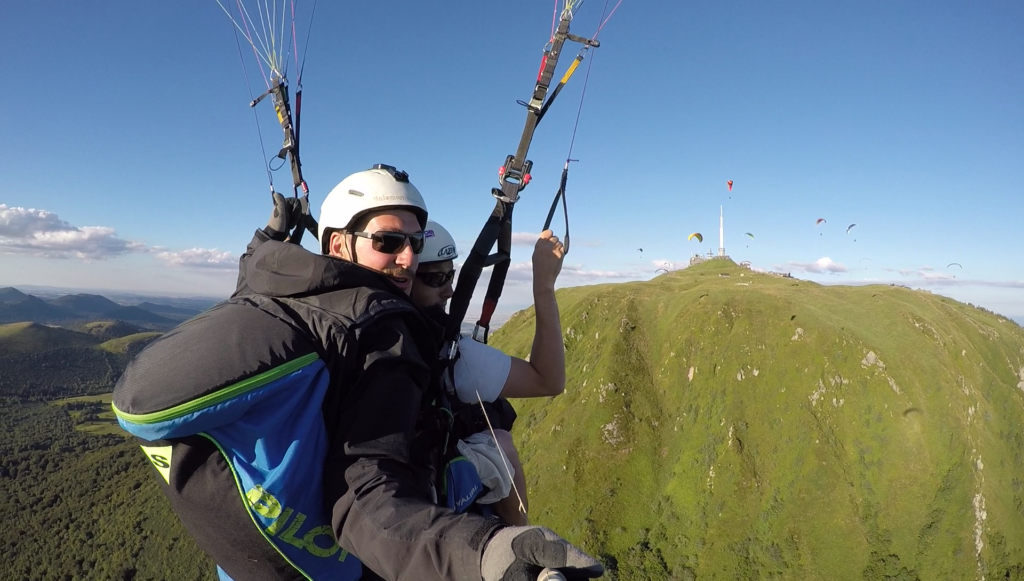 Conditions required to carry out an educational flight:
In order to have the opportunity to learn and improve your paragliding skills, it is necessary to respect the following conditions:
Weigh between 40 and 110 kg
Being able to walk on a slope
To have a written authorisation from both parents for minors.
Book a gift voucher for an educational flight
Offer an educational flight to your loved one with the Absolu Parapente gift voucher and give them the opportunity to pilot a paraglider themselves! Order the gift voucher in 5 minutes and receive it by email immediately.